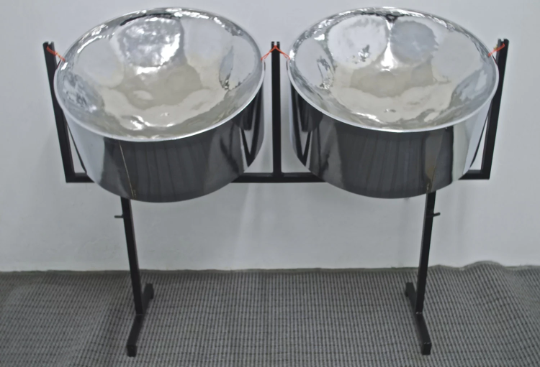 KaribPAN Steel
KaribPAN F# Double Second High Gloss Chrome Steel Drum Package + Cases, Stands, Sticks
Shipping directly from Trinidad & Tobago, our double second pans represent the authentic culture, craftsmanship and class that this modern instrument is recognized for.
All of our instruments are 100% handcrafted from the start of the pan making process until the finish, from sinking to tuning. 
All of the drums used to make our pans are sourced locally from 18 gauge T&T drums without letters, which are specifically produced for pan production.
Shipped with a high gloss coat of Chrome, tuned, and ready to be played.
High gloss chromed pans produce a superior tone while also providing a brilliant, mirror like finish. 
This instrument is tuned in F# and has a range of F3-C#6
The double seconds have a vocal range in tenor and are typically used to play harmonies and provide support to the melodies in a steel pan orchestra.
However, as a frontline steel pan instrument, it is also pitched high enough to play melodies as well. As a result, the double seconds are a truly versatile instrument.
Boasting 2.5 octaves, this is an instrument capable of playing in all scales and is compatible with most every typical classical and non-classical instrument. 
Whether you are a beginner or a professional, when you play our pans, you can be proud knowing that your instrument was produced entirely in T&T, the home of steel pan. 
We also have additional members of the pan family available for sale, as well as various other pan accessories.
Interested parties are encouraged to inquire within. 
---
Share this Product